Scan a foot hands-free in 5 seconds using your iPad
3D scanning technology with Kiwi App
The Occipital Structure Sensor and Kiwi app enable you to take 3D images of your patients' feet while holding each foot in a subtalar neutral position.
This meets all insurance requirements.
Scan hands-free in 5 seconds or less
Use the new scanner feature in the Kiwi Konnect app and the Occiptal Structure iPad scanner to take hands-free 3D scans of your patients feet. Kiwi is the only app that allows you the ability to hold your patient's feet in a subtalar neutral position because of its hands-free feature.

Reduce Material Costs
Eliminate unnecessary material costs and wastage from traditional casting.

No More Shipping
Save time and money by sending casts to the lab digitally.

See More Patients
Reduce assessment time and improve communication with your referral sources.
Your complete scanning solution
An all-in one solution for transforming your clinic.

Hands-free Scanner App
Search Kiwi Konnect on the App Store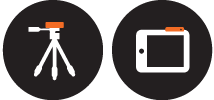 Complete Scanner Package
•  Occipital Structure 3D iPad scanner
•  Low-profile telescopic tripod
•  Custom iPad mount
*4th generation iPad or newer required.
Create an account and get started today